More and more celebrities are wearing our dresses to premieres. I really think that's cool because this way other people can see our dresses and argue about them. And so will I be doing right now. I decided to pick out a few of my favourite dresses and share them with you. I will explain how you can wear these dresses the best and, of course, how to not to wear them. I hope you enjoy!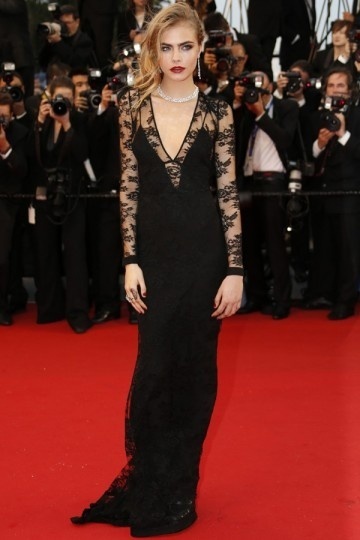 So, if someone is famous, it will be Cara Delevinge. Call her name, and everyone knows where you are talking about. She is a top model of the greatest level, has modelled for almost every possible brand (read: DKNY, Chanel and more) and now you can wear one of the dresses she was wearing to a premiere! How cool is that? It's only $169,35 which is very inexpensive for a high fashion dress. I love this dress so much. It reminds me of something very chic and mysterious. I like how the lace flows into the actual dress. Cara rocks it with some subtle but expensive looking silver jewellery. She also wears a burgundy red nail polish which fits in the mysterious feeling. I am not sure what shoes she is wearing, but it's good that you don't see them. They look a little bit like sneakers, or do I see it wrong?
This dress is already very sophisticated itself, so you don't want to go for the huge statement necklaces and a lot of color. I think these kind of dresses are made to look very chic and sophisticated. So try to go for some expensive looking jewellery. Don't know what jewellery to wear? Just look at what Cara wears in this picture and it's alright!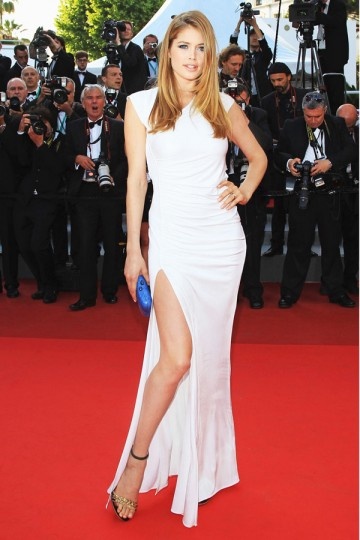 Now we are talking about models, we can't forget about Doutzen Kroes of course. A bonus: she is from the Netherlands which is my country. I think she is so beautiful and that's why she is able to wear such 'basic-shaped' dresses. The dress fits her figure so well and the fabric looks very chic, but I still think this dress is not perfect for me. I don't really like it when dresses have the t-shirt shape on top, but this dress has a very subtle t-shirt shape which is actually kind of chic. When you see the dress from the left side, it looks so good because you can see the cut out so well.
I love how Doutzen went for a nice, small deep blue clutch. It gives the outfit an extra pop of color. The heels are made for her. They are not clumsy and look very sophisticated, which is a great complementary item for the dress. I also adore the double ring she wears on her fingers. I only miss some small bracelets.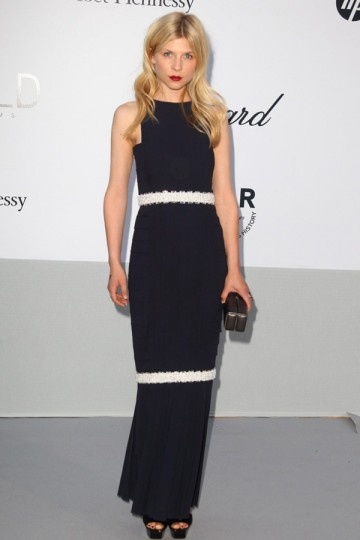 Clemence Posay knows clearly how to wear it. Her deep red lip color, blonde wavy hair.. It's wonderful with the dress. She is wearing a clutch with lots of studs and I love it. It gives an edgy look to her chic and feminine dress. I really like combinations of black and white. They remind me of the pop-art times. The white belt (which is actually included and a part of the dress) has sequins all over it and it makes the dress look so chic. The heels are nice, but not much more than that. I think I would have went for heels with a smaller strap so they looked less clumsy. It's not that they look very clumsy, but it makes the outfit less chic and we don't want that!
When you are taking a closer look, you will find out the dress has all kinds of fabric details. Between the two white straps it's a little bit raffled and on the bottom it flows out just a little. I think this dress is definitely made for the red-carpet, but I would change the shoes.
Generally speaking, you shouldn't wear anything big with very chic dresses. When you go for a subtle silver ring, bracelet and necklace you will do always good. Chic dresses are made to stand out themselves. Only when your dress is very basic you can go for a nice statement necklace. But even then, it takes away a part of the sophisticated and chic factor.